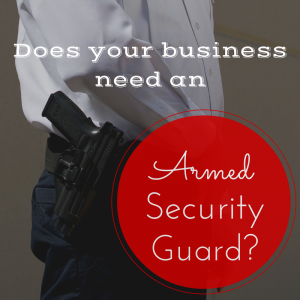 Most business owners feel that security guards bring a fantastic sense of safety to their businesses. With the huge success of officers deterring theft, some business owners begin to consider whether an armed security officer would be a logical next step. Hiring an armed security officer is a decision that should not be taken lightly. By introducing firearms into a business, you run the risk of escalating a situation. Employees may also have mixed feelings about the use of guns. However, there are some great benefits to having an armed guard on the premises.
Extensive Security Guard Training
Those business owners who already employ unarmed security officers are familiar with the training that these guards have to go through. Security officers must successfully pass a thorough pre-employment screening. Those that pass take classes in report writing, patrolling, and legal aspects of the security profession. A test is then given that, upon passing, provides the guards with certification.
Beyond that, guards may choose to extend their training to become armed security officers. Prospective armed guards must first gain experience as an unarmed guard. Then, they can enroll in a much more extensive training program that encompasses both classroom and firearm instruction. A second exam is given before certification is achieved. Guards holding this certification must retake the test every 2 years to retain their license. Through the process of major comprehensive training, businesses that employ these armed guards are assured of professionalism and a heightened level of response.
Advantages of Armed Security Officers
Armed security officers can be a big asset to a business. Theft deterrent is multiplied when a guard is wearing a weapon. Thieves and robbers that see that a guard is armed are much less likely to make an attempt at any given business. Armed guards also provide protection that extends beyond that of an unarmed guard who is limited by the tools that they have.
Questions to Ask Before Hiring an Armed Guard
Armed guards should be limited to businesses where it is truly necessary. To deem if your business needs an armed guard, ask yourself the following questions:
Is your business liable or prone to attack? Certain lines of business are attacked more often than others, and location can play a big role here as well.
Are your neighboring businesses armed? If so, by not being armed, your business is more likely to be attacked than your neighbors'. If your neighbors find it necessary to use armed guards, it is probably wise to follow their lead.
How do your employees feel about firearms and armed guards? They should be part of the decision if you hope to retain them as employees. Their feelings about it may sway you one way or the other.
If you are considering hiring a guard for your business, armed or unarmed, Sterling Protective Services is available to speak with you about your situation. We can help you set up a security program designed specifically for your business. Contact us today and we will answer any additional questions you may have about professional security.
Contact Us