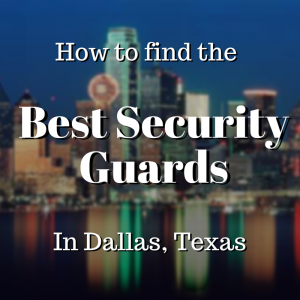 Sterling Protective Services has been providing the best security guards in Dallas TX for over 25 years. We believe that our combination of thorough screening, rigorous training, and a focus on doing one thing right, rather than making a half hearted attempt at several different things, is what makes our security guards the best, Dallas has to offer.
Security Screening and Background checks
At Sterling Protective Services, we believe a thorough background check should be performed for all employees.  It's important to know that your employees are trustworthy, and have a history of making good decisions. We consider this even more important in our Dallas security guards than in a non-secuity role, because the nature of the job requires that the employee be placed in situations that require a trustworthy nature.
Rigorous Training and Full Qualifications
Out of any of the Dallas security companies we believe that we offer some of the best training. In addition, this training is done throughout the company to provide top notch services from our locations in Houston and Austin. Our Security guards in Dallas TX go through a comprehensive training process, including both classroom and in-the-field training to ensure they are fully prepared and informed on the topics of procedure, state law, making judgement calls, communicating, courtesy and much more. Our process is continually evaluated to assist in our quest to provide the best security guards in Dallas TX.
A Single Minded Approach to Dallas Business Security
On our Why Choose Us? page, we have a section entitled "We do one thing, and we do it well" which outlines our efforts to produce the best security guards, Dallas Texas has to offer by making a deliberate decision to avoid peripheral security services like installation of alarms and closed circuit video systems, or neighborhood patrols. While these are beneficial products, (our security officers are comprehensively trained on putting any existing surveillance equipment you may have installed to professional use), we'd rather spend our time focusing on producing the best security guards in Dallas Texas. We're confident you won't find a better security guard than ours.
Put Dallas' Best Security Guards to Work for You!
To top it all off, you'd be working with Texas-based, Texas focused company that has been in operation for over 25 years. We'll gladly put our experience to work for you, and we're proud to serve Dallas Texas-based companies, in addition to companies in other major Texas cities. Sterling Protective Services is privately owned, and unlike national publicly traded security companies who need to please their stockholders first and foremost, our first priority is our customers.  Built on a firm foundation with over 25 years in Texas, we believe strongly in understanding our clients' operations and and we listen to your needs. Let us prove it with a free security consultation. Contact us today.
Free security consultation