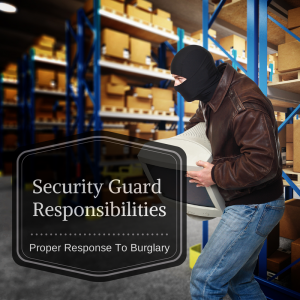 The role of a security officer can vary depending on a client's needs; however, protecting businesses and organizations is the primary focus. Although security officers do not possess the legal authority of police officers, these officers are needed to secure certain areas. In some cases, security officers are armed, as an additional deterrent. For the most part, security officers work directly with first responders and law enforcement in emergency situations. Security officers must guarantee that safety procedures are enforced and use various tactics to ensure protection.
Security officers may experience dangerous situations. For that reason, communication is important. Security officers may use mobile devices such as smartphones and radios to communicate with other officers. Officers must have excellent verbal and written communication skills. When describing incidents and producing reports, the officer must communicate in a clear and straightforward manner.
Responsibilities of Security Guard With Burglaries
There are many responsibilities for security guards, both physical and mental. Typically a security officer must be physically fit and have impeccable observation skills. Other personal requirements include good hearing and eyesight. Security officers must be assertive, responsible, and trustworthy.  They must also possess excellent communication skills.
Observe And Report
In the event of a burglary or theft, the officer should remain calm, observe events, remember events, and report to law enforcement. In most emergency situations, the role of the security officer during and after the incident is to observe and report and to assist emergency personnel as needed. However, the role of the officer before the incident is prevention.
Prevention
A security officer's primary role is to protect people, property, and assets. One of the main responsibilities of a security guard is prevention. In the event a burglary occurs, the officer should stay visible and take the proper actions until law enforcement arrives.
Increased Visibility
Remaining visible is an effective deterrent to crime. Thefts, burglaries, and injuries can be reduced dramatically when perpetrators notice a security officer. For that reason, security officers should remain highly visible at all times. Increased visibility can discourage criminals that are considering any criminal act such as; theft, burglary, robbery or assault.
Be Vigilant
Security officers should remain alert and be aware of their surroundings while performing duties. Watching for suspicious activity and listening for abnormal sounds can help prevent an incident. To perform the job well, the security officer should be aware, listening, and watching. Moreover, the security officer should be apprehensive about any activity that looks suspicious. During a burglary or theft, this could be part of a plan to draw their attention away.
Get Assistance
In the event of any dangerous situations, such as theft, robbery, or burglary, the security officer should not attempt to apprehend the suspect. The security officer should contact law enforcement immediately. In some cases, law enforcement professionals are encouraged to call for assistance in emergency situations. Contact Sterling Protective Services to discuss specific security needs and for information on a security program that is designed to satisfy any client's needs.
Do Your Require A Security Guard For Your Business?
Sterling Protective Services would love to meet with you to discuss all of the ongoing security concerns that you might be having in order to design a security program that is tailored to your specific needs. Contact us today!