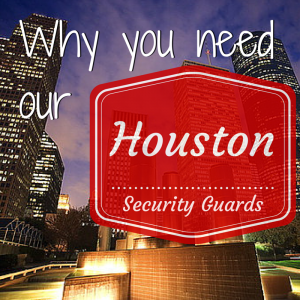 The work of a security guard changes depending on the security environment, the industry they serve, and even from company to company. It is important that you choose a security company in Houston that offers well trained, capable security guards. Our Houston Texas security guards are among the best available due to a rigorous training and careful screening process.
So why are you better off with Houston security guards from Sterling Protective Services?
Fully qualified
All security guards operating in the state of Texas are required by law to meet certain requirements. Security guards from Sterling Protective Services go above and beyond these minimum requirements, as we require that they take additional courses that enable them to think clearly and react quickly in an unpredictable environment.
Impeccable Training
As mentioned above, our guards undergo stringent training processes in order to meet and exceed Texas state requirements. This training confirms that they are more than capable of dealing with the various challenges the job provides. We ensure that both field and classroom training takes place in order to guarantee the best possible outcomes.
Decades of experience
Sterling Protective Services has been owned and operated with in Texas for over 25 years. With this wealth of experience behind them, our corporate team and Houston security officers are fully capable of tackling anything the job throws at them. This experience not only spans time, but also a wide variety of industries. We've worked in just about every industry possible.
Agile practices
Sterling Protective Services believes in continual evaluation of the environment in which we operate. Attentive account managers are assigned to each client with post supervisors on site to verify that our Houston security guards perform their roles to the best of their abilities. We also constantly evaluate our work to ensure that we are always improving our processes, and every challenge is seen as an opportunity to improve.
In the same way, rather than having a standard sheet from which your quote is pulled, Sterling provides a unique quote that is tailored to ensure you aren't paying for anything you're not getting. With our free consultations and custom quotes, you'll never pay too much.
We listen, and we do our jobs well.
Sterling has always believed in providing the best possible security to businesses in Texas. Our offices in Dallas, Houston and Austin provide local service and a personal touch. Our ears are always open to suggestions or feedback from our clients, and take every communication seriously. We also specialize, providing only business security, rather than branching out into residential security or electronic security systems. This means that when you take on one of our security guards in Houston or any of our other service areas, you're taking on a specialist who has been trained to incorporate seamlessly and effectively into the day-to-day procedures of your business.
Don't take our word for it, though. Contact us for a free security consultation right away!
Free consultation