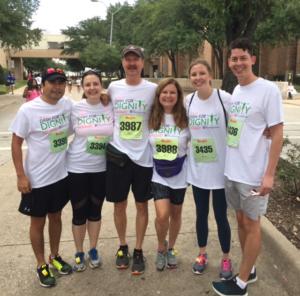 Saturday, October, 7, 2017 – Sterling Protective Services participated in the 2017 Dash for Dignity 5k in support of Achieve DFW, a Dallas nonprofit which provides job training and job placement for adults with disabilities. Sterling is a proud supporter of this organization. A company giving of their personal time on the weekend to give back to the community is the best type of company to work for because you know they care.
Also, Sterling's owner and president, Tim Dyson, finished in 3rd place of his age bracket for the 5k race. Way to go Tim!!
Thank you to everyone who organized the fundraising event!