Churches and Non-profits face unique threats. Preparation and planning is a huge part of crime prevention. For all our clients, we sit down and go over the specific security needs for their organization. We look at the risk analysis. There is a difference in the type of coverage for a small church in a high crime area versus a mega church in a suburban area. Cash donations make the church or non-profit vulnerable to theft or robbery. If services are at night there might be more of a risk if the church or non-profit is isolated and exposed for crime.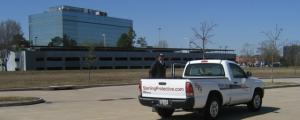 In Houses of Worship there could be potential threats of violence from other groups that target specific religious groups.
It is important to secure a church/non-profit and still be inviting to worshipers and visitors. Sterling Protective Services' officers are trained, professional and discreet.
We have several non-profits that we have provided service to for years.
---
Happy Clients:
"Sterling Protective Services, Inc. has been a wonderful partner with our organization.  We are an organization serving the homeless and disadvantaged.  Our security needs are significant and varied depending on those individuals seeking assistance.  The security professional we have ensures the safety of our staff and clients.  We are very appreciative of Sterling's assessment of our needs and their commitment to excellence through their service to us." — M.C., Houston, TX