The manufacturing and industrial segment has all of the traditional security issues present as in other business sectors; such as access control, vandalism and theft, but in addition has other threats present, such as lost profits through production equipment failure and inventory loss. Also, the enforcement of employee safety plans and programs is paramount to a safe and profitable manufacturing operation, providing substantial insurance savings. The planning and enforcement of inventory controls is another added benefit of using Sterling Protective officers.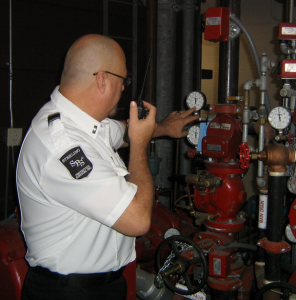 Before beginning a security program at a manufacturing and industrial facility, Sterling Protective personnel will with work together with your operations staff to develop a security and safety program that will ensure safe and secure operations. These specific plans will be instituted through the Post Orders along with the detailed training for that Post. Whether checking temperature gauges on the assembly line, or in storage facilities, the investment made with Sterling will be well worth it. On numerous occasions, Sterling officers have discovered problems with equipment and taken the appropriate actions, notifying client personnel, saving them untold amounts of money. These savings were generated by catching the problem early before more extensive damage was done, and also by preventing a potential manufacturing shut down due to the problem not being quickly detected. If long term damage had occurred in these situations, additional labor costs with no production would have been extremely punitive for the companies.
Our officers can also be Red Cross Certified in First Aid/CPR to provide extra safety backup to your employees. Sterling Protective Services serving your manufacturing and industrial facility, will be an investment in your operations and facility while also providing peace of mind.
---
Happy Clients:
"I am pleased with the performance of the Sterling Protection Services staff assigned to our facilities.  The management responds quickly to questions and needs.  I would definitely recommend SPS to others." — Valerie, Houston, TX