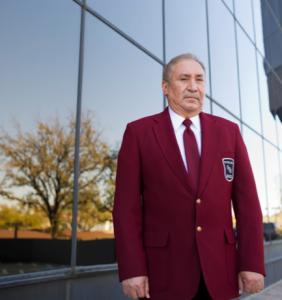 The beginning of a new year always represents a clean slate; a time to start fresh and perhaps put an end to some bad habits, or adopt some good ones. Business security is an area that is perhaps neglected when this "fresh start" mentality kicks in, but the new year presents a great opportunity bring dedicated and professional onsite security guards on board, and have them familiarize themselves with whatever challenges your business faces in the post holiday season. Here are some questions you should be asking yourself:

Does my business need security guards?
If you're asking the question, the answer is probably yes. Well trained security officers provide a highly effective deterrent to vandalism, shoplifting, trespassing, theft, workplace violence and more. The safety of your customers, employees and merchandise are at stake, and it's never a good idea to simply hope for the best.
How are onsite security guards different to video surveillance?
Closed circuit cameras add an ability to keep an eye on your premises, and capture footage of anything that might happen. Many business owners only install security cameras as a visual deterrent, hoping that the sight of them alone might deter a crime. Consequently, many security cameras are defective or not actively recording, and criminals are aware of this. Also, technology improvements mean that a modern security camera is far less visible than it's counterpart from 5-10 years back. A potential mischief maker is likely to either totally overlook your camera, or take a chance on it being dysfunctional. A vigilant security guard, on the other hand, is going to be an effective deterrent and is helpful in the moment an incident takes place, not simply afterwards.
Just to be clear, video surveillance definitely has it's place, and our guards are trained and able to work together with any technological security measures you have set up to further enhance your security, but if you have to resort to one option, most experts would agree that an onsite security guard provides better protection.
How many security guards does my business need?
This is a highly subjective question, with different businesses having very different requirements. The factors in making this decision include the size of your business, premises, parking lot, staff, etc, the nature/value of your products or service, the general security of the area you operate in, and more. While we can't give you an exact answer here, we'd be happy to discuss your needs and put together a suggested security program. We offer our onsite security services in Austin, Houston, Dallas and Fort Worth, and are celebrating our 25th Anniversary this year, so we are confident we can provide the protection you're looking for!
Would my employees or customers benefit from an onsite security presence?
If you're not certain of the answer to this question, you should ask some of your staff. There is a level of anxiety that comes to an employee who works alone, or during late night shifts. Ask employees who work the least secure shifts to speak honestly, and see what response you get. If you detect insecurity in their response, it's possible you should be considering hiring a security presence.
Over our decades of experience, we've worked with businesses in many industries, and have learnt that every business is unique and poses unique challenges. We'd love to get to know your business and put together a program that will suit your needs and budget, while providing you the best possible security. Please don't hesitate, contact us today!
Get a free consultation

Melissa joined Sterling Protective Services in 2007 as Marketing Director. She is responsible for all marketing efforts for the company, including business development and sales for all branch locations. This includes Sterling's website, search engine optimization, and social media efforts. She also manages Sterling's government relations program and Sterling's charitable giving program. Melissa holds a Bachelor of Science Degree in Education from Baylor University.